Your dentist Malmö - Book an appointment with TandCity
TandCity's dentists in Malmö offer all treatments with a constant focus on excellent Swedish dental care of the highest quality. We offer professionalism, expertise and always individually adapted treatment.
We are different. Our vision is to make high-quality dental care available to everyone. Without compromises.
We are a unique group of people who are passionate about our profession and who want to do our utmost to offer high-class dental care at reasonable prices - for all! All smiles are unique and should be treated accordingly. We put you as a patient in focus and always do our best to find the right solution for you. Satisfied customers come back and our goal is that all patients who come through our doors should be able to feel our commitment and want to come back. TandCity's dentist Malmö is here for you.
The basic pillars of TandCity's concept are:
QUALITY – We want to be proud of the dental care we deliver. Our competent staff works together with the most outstanding dental technicians in Sweden to give you the absolute best. The latest materials and the latest technology give us the ability to deliver dental care of the highest class. In this way, our patients can feel safe. We never skimp on quality.
AVAILABILITY – It should be smooth and easy to get to us. That is why we have chosen to place ourselves in the absolute best location in Malmö - opposite Malmö central station.
SERVICE - We understand that it is difficult to find time in a stressful everyday life. To make it easier for you, we are therefore open from early morning to late evening, including Saturdays. You can also book your appointment online via our website - around the clock.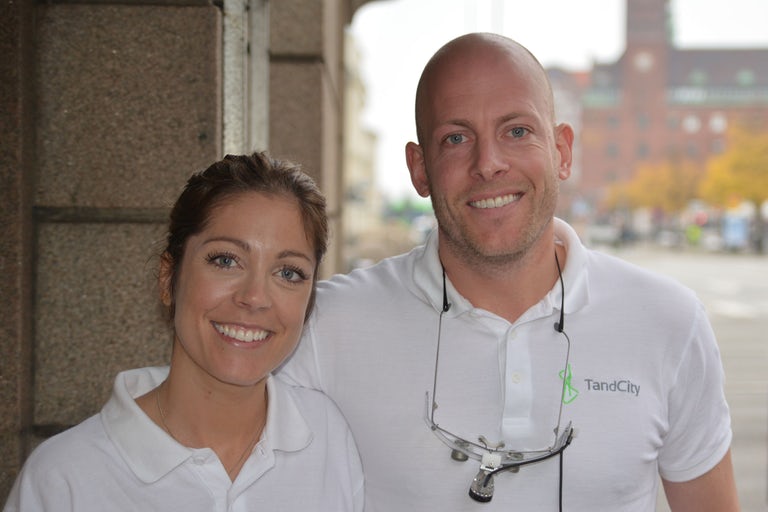 TandCity – a private dentist in Malmö
Our network of clinics in Switzerland and Sweden all share the same vision. This enables us to work with equipment and materials at the highest international level, even in Malmö.
We who founded the concept are called Alexander Johansson and Sofie Bergman. We are a couple of dentists, educated at the Karolinska Institutet in Stockholm but born and raised near Malmö. We are passionate about our profession and have known from the beginning of our career that we want to change and improve. We want to work with the best and with the best. In this way, we can develop and offer our patients something completely extra. In 2012, we opened our first dental practice, ZahnCity, in Zurich, Switzerland. Now we are back at home to realize the dream of a private dental clinic in Malmö. A private dentist in Malmö who will offer the absolute best in dental care, both to staff and to patients. You should be able to feel the difference with us.
TandCity dental clinic is located in Malmö's best shopping location and the premises are incredibly beautiful with their pillars and stucco. The house was built in 1904 and is located at the intersection of Hamngatan/Norra Vallgatan. It is popularly called the Skåne Palace and the first owners to move in were the insurance company Skåne. Skandia owned the building until 1999 and the current owners are Fastighets AB Trianon. The clinic is next door to the well-known Savoy Hotel and is just a stone's throw from Malmö's central station. With the help of a talented architect, we have managed to preserve the old charm and at the same time create a modern and inviting atmosphere. It is unique in its kind with a combination of dental care shop and dental practice, and the treatment rooms are placed inside glass cubes on two floors in order to maintain the large access to daylight in the premises.
We work closely with our own in-house dental technicians, who specialize in cosmetic and aesthetic dentistry. We dare say that they maintain a higher level of service and technical expertise than many others, but above all, they share our vision of high-quality dental care. They work at a high international level and possess knowledge and characteristics that make them unique. Using carefully selected products, equipment and the latest technology, they provide us and our patients with top-class fixed restorations. In our clinics, we only work with all-ceramic crowns and bridges, i.e. completely without metal in the constructions. With the right knowledge and the right materials, we dare to say that metal in fixed structures no longer has a place in modern dentistry.
What does TandCity's dentist Malmö offer you as a patient?
• Reliable and competent staff. You can feel safe in our hands.
• Highest quality. Carefully selected materials and the latest technical equipment.
• Unbeatable opening hours. Monday to Friday 07:00 – 20:00. Saturday 09:00-17:00.
• Best location. The clinic is located opposite Malmö Central Station. You can easily reach us by train, car or bus.
• Appointment booking online. Book your appointment in peace and quiet via our website. Of course, it is also fine to call us to book your appointment.
We hope you choose us at TandCity as your dentist in Malmö. We promise to do our utmost to ensure your satisfaction. Our patients should feel seen and listened to. They should feel safe and secure. You should be able to feel the difference when you come to us.
We offer professional dental care in Malmö and together we develop Swedish dental care. Welcome!
TandCity's dentist in Malmö
TandCity – emergency dental care in Malmö
Are you in need of an emergency time or do you want to have a time quickly for some other reason?
Just calm down, we'll help you. We understand that some things can't wait and make sure you get a time as soon as possible. Contact us at phone number 040 23 66 00 or book your time online. Warm welcome!