Are you thinking of finally getting hold of your smile and investing in porcelain veneers? A smile is an important part of both personality and self-confidence. Instead of feeling insecure and worried about your teeth find help to get. If you are not satisfied with the way your teeth look, you can contact us at TandCity in Malmö for advice and expert help.
Why install porcelain facades?
The reasons for wanting to install porcelain facades can differ from person to person. But the main reason is aesthetic reasons. Uneven, chipped or discolored teeth are common reasons why veneers are chosen.
Price for installing porcelain facades
How much it costs to install porcelain facades depends on several different factors, including how many facades are involved. Do you want more information about how much it costs for your particular treatment? Contact us at TandCity in Malmö and we will book a consultation for porcelain veneers with one of our dentists.
The treatment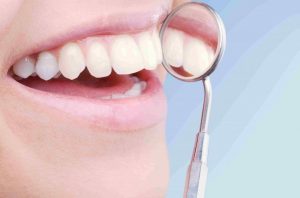 When you visit us to install porcelain facades in Malmö, together we will come up with how to achieve a result that you are satisfied with. We go through which teeth are up for treatment, which shade fits together with your other teeth and what shape the veneers should have.
Before the treatment, your teeth are 3D-scanned and photographed by the dentist. This information is sent to a dental technician who in turn digitally processes the photographs to show what the result will look like. We work with a technology called digital imaging that visualizes exactly how your smile will look after the treatment is completed. This means that you as a patient can see the end result even before the treatment has started and that you and your dentist agree on the desired result.
The 3D scanning and photographs are also used by dental technicians to create a model of your teeth on which to build the porcelain veneers. Guides are then created that are used by the dentist to see how much of the tooth needs to be ground away to accommodate the veneer. Ideally, you want to keep as much of the existing tooth as possible.
If you want more information about how the treatment is carried out, you can read more here: Porcelain facades
Safe treatment at TandCity
When you choose to come to us at TandCity for one of our treatments, you can be sure that you as a patient will receive all the support you need to feel completely safe and that you will get a good idea of ​​what the end result will look like. Contact us today or read more about us on our website. Welcome!