A question we often get is: What does a dental hygienist do?
It's an excellent question as many are of the opinion that a dental hygienist is just a way for patients to spend more money – when in fact it's the exact opposite.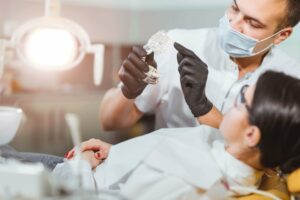 A dental hygienist works in dental prophylaxis, in other words: preventive dental care. They clean patients' teeth and examine their mouths for signs of damage, inflammation and disease. They help patients with their oral care and instruct them how to take care of it in the best way. A dental hygienist works closely together and under the supervision of a dentist, but in some cases may also receive new patients without a dentist on site.
Many people think that dental hygienist is a synonym for dentist, just as housekeeper is a synonym for cleaner. However, this is not the case. Their duties sometimes overlap, but they are ultimately different professions. Another common confusion is between the profession of dental nurse and dental hygienist. They have in common that they both work in dentistry under the supervision of a dentist, but their tasks vary significantly. The duties of a dental nurse mainly consist of helping and assisting dentists, leading patients to their examination rooms, preparing patients for examinations and procedures, and preparing tools and instruments for the dentist. A dental hygienist works with his own patients and focuses on oral hygiene. In addition to examining the patient's oral hygiene and cleaning the mouth (remove tartar and bacteria), the dental hygienist also provides information and instructions to the patient on how best to care for their teeth and gums. The dental hygienist also treats conditions such as gingivitis and tooth loss. The dental hygienist may also take X-rays and carry out repairs after a drilling, but not carry out the actual drilling of the tooth. A dental hygienist's duties include, among other things:
- A preliminary examination of new patients
– Clean and remove stains, plaque and tartar from teeth
– Apply fluorine varnish and joint compound
- Take X-rays
- Administer local anesthesia to patients
- Make treatment plans and document completed treatment on patients
- Examine the patient's oral hygiene and convey the results to the dentist
- Educate patients on good oral hygiene practices such as proper brushing and flossing
– Treat and prevent gingivitis (gum inflammation) and periodontitis (tooth loss)
Why should I go to a dental hygienist?
A dental hygienist is specially trained to carry out examinations and minor treatments and are experts in teaching you how to take care of your teeth and gums in the best way. They have the opportunity to spend more time with you than a dentist can. In most cases, the cost of visiting a dental hygienist is also lower than for a visit to a dentist.
Some dentists prefer to carry out much of the duties of a dental hygienist themselves, while others prefer to leave much of the examinations and light treatments to their dental hygienist.
Our dentists and dental hygienists at TandCity Malmö work closely together to give our patients the best possible care.
How much does it cost to visit a dental hygienist?
Our main goal at TandCity is to provide high-quality oral care to all people. We never compromise between quality and price. We want the whole of Sweden to smile and we believe that a satisfied customer will return.
Dental care prices for an examination with our dental hygienists in Malmö:
– Basic examination, performed by dental hygienist, 730: –
– Basic examination with complete periodontal (tooth loss disease) examination, performed by a dental hygienist, 950: –
Before starting your treatment at TandCity Malmö, you can always ask our dental hygienists or dentists for a cost estimate for your dental care needs.
Book a visit with TandCity today
Here are some tips already now about good oral hygiene from TandCity's dental hygienists:
– Brush twice daily for about two minutes, preferably with an electric toothbrush and with a fluoride-based toothpaste
- Use dental floss or an interstitial brush daily to remove bacteria between teeth and other hard-to-reach spaces
- Visit your dentist regularly or dental hygienist at TandCity in Malmö
Contact TandCity directly, or book an appointment online for a visit to one of our dental hygienists in Malmö. Welcome in!
"The text above is written for online marketing purposes. The views are the author's own and do not necessarily reflect the views of TandCity."